05/07/2019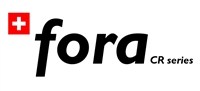 Named after a Swiss peak, fora is the pinnacle of our CR series
GeoSIG releases most advanced multichannel central data acquisition system
GeoSIG continues to celebrate with the launch of another new instrument. In May we launched our most advanced data logger to date—
scai
.
In July we are launching our most advanced multichannel central data acquisition system—
fora
, which incorporates some of the technology
also developed for
scai
.
It is fitting that it is named after a Swiss peak (Piz Fora), because
fora
is the pinnacle of our CR series.
fora
is a 19-inch rack module with Slot-in
Modules (SiMs) inserted into vertical slots, and it features an extremely flexible 24 Bit (or optionally 36 Bit) multichannel recorder. It has up to
36 channels, and by combining several
fora
systems, hundreds of channels can be monitored. Data from acceleration, velocity, displacement,
strain, meteorological or any other type of sensors can be monitored and recorded with superior data quality.
There is true simultaneous sampling with the shared clock for up to 36 channels, and
fora's
capable of communication via Ethernet TCP/IP,
internal landline modem*, external GMS modem*, external satellite modem*, external GPRS modem*, or external UMTS/3G modem*.
It has improved features and additional enhancements when compared to earlier CR series:
fora offers the most flexible sensor connectivity options to cater for the needs of any measuring requirement. Any type of sensor
complying with the fora signal input specifications can be connected on the conveniently available screw terminals.
System parameters of fora are stored in the non-volatile system memory to allow automatic recovery.
The dynamic range is 146 dB (per bin @ 1 Hz rel. full scale rms)
137 dB @ 50 sps
156 dB (per bin @ 1 Hz rel. full scale rms)*
150 dB @ 40 sps*
The most flexibility in communication with many options available.
Its various applications include: Structural Health and Response Monitoring, Earthquake and Seismic Monitoring, Ambient Vibration Testing,
Induced Vibration Monitoring and Notification, Building Code-Compliant Instrumentation, & Seismic Alarm and Safe Shutdown.
"We wish to use this opportunity to thank our engineering team who have been continuously working on the development and carrying out
detailed testing of
fora
for more than two years," said Johannes Grob, joint managing director of GeoSIG.
Click
here
to review the specifications for fora, and
here
to view more product details.