12/03/2015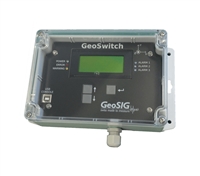 Affordable Safety
The GeoSIG engineering team have been hard at work over the past months to develop the GeoSwitch a product, which will enhance our range of solutions by the introduction of a highly demanded product for our customers.
GeoSwitch while having many unique features is a versatile product with a price tag, which makes it affordable for many safety-monitoring solutions, which otherwise a safety shutdown solution could not be considered.

GeoSwitch has been developed with feedback from professionals and Practitioners who have clear wishes for such a class of product. Easy installation and maintenance coupled with LCD display with easy user interface to provide three independent seismic relays at an affordable cost were some of the key wishes of our focus group. Multiple interface modes, Bluetooth, USB, serial MODBUS were amongst the highly desirable features to make the product adaptable to many solutions. Redundant Quadruple Matrix (RQM)TM enhances the reliability of GeoSwitch and signifies the critical role of the device as a safety switch.

GeoSwitch is housed in a versatile industrially rated enclosure with a single cable inlet for all connections.
Ideally suited for accurate monitoring of strong ground motions to control relay contacts at different acceleration levels for warning and/or alarm functions, GeoSwitch provides user programmable set points over the full available measuring range.

GeoSwitch provides compensation for non-level mounting with sophisticated digital electronics, which eliminates the need for high-precision levelling.
GeoSwitch will be available by the beginning of second quarter in 2015.

Click here to for the GeoSwitch Leaflet